Owing to the true-to-life reproduction, the fabrication of eye prostheses from glass permits a discreet wearing, a perfect fit and thus a self-confident personal appearance. Kryolith glass, a high-quality special glass, is used for fabricating eye prostheses.
Fabrication
The type of eye prosthesis will be determined by your ocularist. It will be custom made according to the state of the eye socket.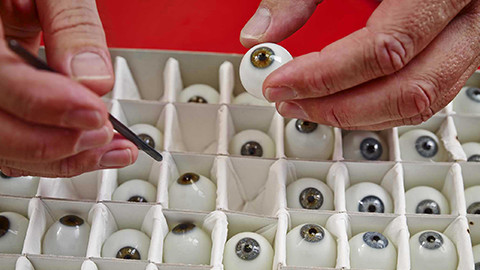 Glass eyes will be fabricated as hollow pieces or as thin shell prostheses. They are made during one visit. This will, as a rule, take approx. one hour. After such visit, your ocularist will be happy to advise you about how to properly handle your eye prosthesis.
Storage
Eye prosthesis may be worn day and night in the most favourable case; this will be decided by your ocularist case by case. While the prosthesis is not worn, it is kept dry in a closed receptacle. Please note: The glass eye must never be stored in water!
Cleaning
The eye prosthesis should be cleaned thoroughly once a day, using clear lukewarm water. Taking out the prosthesis should not be done in the bathroom. The risk that the eye drops down and is shattered in the washing basin is very high. The glass eye is best cleaned in a plastic dish filled with water and taken to a safe place such as e.g. the kitchen table or the bed room. Using hot or very cold water may lead to extreme temperature variations which may affect the resistance of the material. A treatment with corrosive liquids or a cleaning of the surface using hard implements is cautioned against.
In case of persistent staining, the glass eye may be soaked for approx. 10 minutes in a sodium chloride solution (1 teaspoon of common salt to one litre of boiled or distilled water). Subsequently the prosthesis must be washed again thoroughly!

Replacement
When carefully handled and regularly attended, your eye prosthesis should, from the medical point of view, be replaced after approx. one year. However, if the wearer of eye prosthesis is exposed to heavy environmental burdens, the wearing period may be reduced. A first indication is an increased flow of tears, the eye socket gets red, and a viscous yellowish secretion may be produced. Should these symptoms appear, you should contact your ophthalmologist.
Kryolith glass
Kryolith glass is free from detrimental substances such as e.g. lead, and chemically neutral. There have been no indications of allergies, and it therefore is particularly suited for being used in eye prosthetics. Kryolith glass does not only have a smooth surface but is also optimally suited for being wetted by the tear fluid as it is very well tolerated by the mucous membrane. The movement of the eye lids on the surface of the ocular prosthesis and the movement of the whole glass eye in the conjunctiva will only generate a minimum of friction, ensuring a high degree of wearing comfort.