Treatment based on a special technology: We have been the first in Germany to offer our patients the digital capturing and storage of their eye irides. The photos are taken with a professional digital camera and reproduced on a colour-calibrated monitor. Thus your eye colour is always on stock.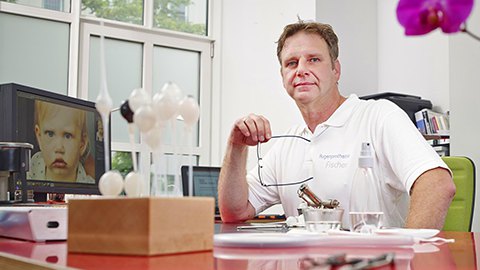 Small Children and Babies
As a result of our long and close cooperation with ophthalmologic hospitals, we have very great experience in providing small children and babies with artificial glass eyes.
Mail Delivery Service
Should you be prevented from visiting this Institute, we are in a position to make your perfectly fitting eye prosthesis on a 1:1 scale and supply it free of charge by mail delivery service. If you wish to make use of such service, we ask you for prior consultation.